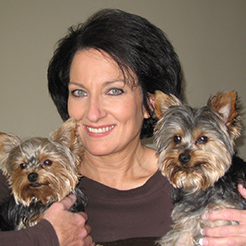 Mary Wolff, Honest Pet Products
In late 2010, Founder Mary Wolff had a desire to "make a difference." that could in some way help others. The answer was found in a torn-up, ratty-looking drink coaster.
Mary's two adored Yorkies, Willie and Sophie, were spoiled with every conceivable toy on the market, and yet these luxury toys continuously landed in the "will not play with" bin. Their play time focus centred on her fabric drink coaster!
This inadvertent drink coaster/fetch game became a daily ritual of great fun and exercise. Voila! The Eco-Fetcher was born.
It proved to be durable and fun with all "four-legged super-chewer" testers ranging from 3lbs to 110lbs!! Soon, the requests from other pet owners was overwhelming. And Honest Pet Products was born.
Honest Pet Products was born out of three basic, unrelenting, and uncompromising principles :
To be TRUE TO OUR PETS
To be TRUE TO OUR PLANET
To be TRUE TO OUR PEOPLE
TRUE TO OUR PETS We use the most truly NATURAL materials possible to create pet toys that are NATURAL, HEALTHY, DURABLE & FUN for the pets we love. Satisfaction guaranteed!
TRUE TO OUR PLANET Nature provides the sustainable HEMP & WOOL used to make our truly eco-friendly pet toys which reduce our carbon footprints & pawprints! Our products are biodegradable.
TRUE TO OUR PEOPLE We provide jobs for proud Americans who make our products in Wisconsin. Our social efforts extend to women supporting their impoverished families living in the Gobi Desert and desolate regions of Nepal. They hand make several of our wool parts used in making our cat toys.
Honest Pet Products is how Mary makes a difference.