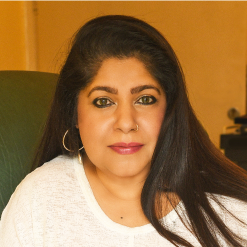 Rati, Ati Jewels
My story started many years ago, when
I married the man I was deeply in love with.
And then my life took a turn, when a life that
was meant to be full of love, turned into an
ugly nightmare. Within six months of marriage,
my husband turned verbally abusive and
before I could really wrap my head around
that, it escalated to drunken violence. I could
not understand how a man who claimed to
love me, could hurt me so badly. And this
continued for five years, during which time,
I was too humiliated to say anything to
anyone, and tried every possible way to
make my relationship with him bearable.
All this while, I was trying to hold my head above water in my professional
life and I guess I was able to hide what was happening to me quite well,
since nobody had a clue what was going on. However, the day eventually
came, when I realized that if I didn't get out of this marriage, I would die,
because the violence had become so bad. Then followed two more years
of an ugly divorce battle, that took a toll on me financially, emotionally,
physically and mentally, and almost destroyed me. What saved my sanity
was the unconditional love and total support of my parents and my two
brothers, who were my rock every time I thought I would drown.
There were some other wonderful people who came forward to help me,
with legal issues and with counselling and healing. And slowly over the
next few years I healed and rebuilt my life. I was fortunate, I had
wonderful people in my life, but there are many women in similar
situations in the world who do not have anyone to help them heal.
My ordeals made me strong and determined to help other women become
strong too. I stayed silent too long and want to encourage others to give
voice to their suffering and start on a path to rebuild themselves. To be
happy again.
This is my story. And I am forever strong!